Gain control of your supply chain with Cloud-Based TMS software
Impact TMS provides the visibility and management of your global shipments from creation through delivery.   You can now integrate all of the features you demand in a TMS solution with nVision Global's other technologies such as Freight Audit and Payment, Freight Claims and Business Analytics.  We are one of the few providers in the world that can offer these solutions in a single package and still offer a configurable TMS solution that meets your exact needs and specifications.
Contact us today to learn how you can integrate the following features into your Supply Chain:
Multi Mode/Cargo International Capable
Mobile Friendly
Shipment Creation
Vendor & Customer Integration
Shipment Consolidation
Shipment Mapping
Shipment Rating
Integrated Spot Quote Module
Reverse Auction Module
Consolidated Rate Visibility (Negotiated & Spot Rates in One View)
Integrated Shipment Tendering (Booking)
Real-Time Visibility Module
Bill of Lading (BOL) Creation
Integrated Routing Guide
Execute & Manage Parcel Shipments
Impact TMS
A cloud-based solution that enables our customers to manage their entire supply chain, while including the following groups in the process: Internal Logistics Departments Finance Transportation Providers Suppliers Distribution Centers Vendors
Easily Manage Your Shipments
In a single view, you can see all of your shipments and their corresponding status'.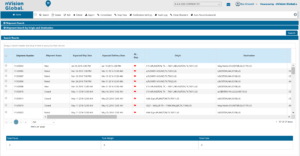 Review all shipment pricing and providers in a single view.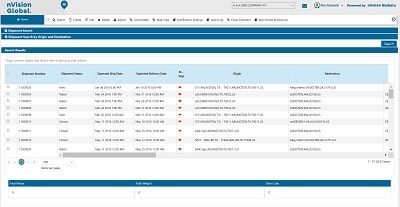 Some Features of Impact TMS
Why Partner with nVision Global?
TECHNOLOGY
In addition to our TMS, we offer an end to end suite of solutions allowing you to consolidate your efforts and data into a single platform
TMS
FREIGHT AUDIT & PAYMENT
CLAIMS MANAGEMENT
RATE PROCUREMENT
CONTRACT MANAGEMENT
BUSINESS INTELLIGENCE
THE PEOPLE
You don't just get our software, but also a team of dedicated resources located strategically throughout the world to support you every step of the way
With more than 450+ employees and 7 offices strategically located throughout the world, you always have someone to work with or contact.  We speak more than 25 languages and offer a multitude of communication channels to ensure you are supported 24 x 7 x 365.
EXPERIENCE
nVision Global has been in business for more than 25 years and has become the de-facto expert in offering supply chain solutions to companies around the world
With more than 450+ associates worldwide, many of whom have worked at nVision Global in excess of 10-15 years, we have accumulated the experts in the industry to provide you the supply chain solutions that are critical to your organization.
Watch and Learn
More About
Impact TMS
We Offer Control Tower Services
Impact TMS allows for either an nVision Global Control Tower Management of your shipments or a Customer Managed option.
Because Impact TMS is cloud-based, you can access your shipment data from anywhere in the world, which means you can take control of your shipment activity or allow nVision Global's experts to manage this activity for you.
Allowing nVision Global to manage your shipments ensures these activities are performed, while allowing your associates to focus on the core competencies of your business.
Shipment Integration (setting it up in the application or ensuring it is created via an automated solution)

Optimization of the shipment (consolidation, etc.) utilizing the customer's business rules

Management of any spot quotes and / or approvals required

Ensuring routing guide or transportation provider selection criteria are enforced

Management of shipment tender / booking

Management of the shipment from pickup to delivery and ensuring any updates from the provider for visibility are delivered

Alleviates administrative burdens of transportation management
Features

Traditional TMS

(Manhattan, JDA, SAP, etc.)

Upfront Cost
No software licenses, computer hardware, software or database license required
Can easily exceed $1 million, plus ongoing maintenance costs
Implementation Speed and Cost
30 to 90 days
Typically 6-18 months and often longer
Promotes
Promotes immediate available to all customers
Annual upgrades that are expensive and disruptive with version control issues
Delivery System
Cloud based, only internet access and a browser are required for user access
Seat licensing and desktop client-side software limit TMS access and configurability
Execution
Greater than 90% automation of primary carrier assignment
Fully integrated freight audit and payment functionality
Full visibility to in-transit freight
Greater manual assignment, lack of FAM and lack of integration with audit and payment
Optimization
Proven configurable optimization engines reduce cost, while meeting service requirements
Optimization engines are present but often underutilized shelfware
Business Intelligence / Advanced Analytics
Comprehensive reporting and analytics
Need to create from scratch, often with external software tools separate from the TMS
B2B Integration
Integration experience with multiple ERP and order management
Plug-in EDI integration with hundred of carriers and multi-modal
Requires custom development and integration
Availability and Scalability
High levels of availability and scalability through SaaS model, backup data center, storage strategy, server virtualization and cloud-based
Requires expensive IT resources and hardware for availability / scalability