Contact Us Today
Cloud Based TMS Featuring Order Management, Automated Rating & Tendering and Shipment Visibility
iMpact TMS is a modular solution allowing you to easily add and remove functionality with minimum interruption to your everyday business processing. Our TMS solution allows logistics and supply chain managers to gain increased control and end to end visibility of their shipments on a global scale.

Utilization & Creation of Routing Guides

Quick Access to Relevant Documents

Automated Alerts and Approval Processes

Real-Time Track & Trace of your Shipments

Configurable
Reporting

Financial
Analysis

Configurable Approval Processes

Carrier Scorecard
Creation
Features
Learn More about the Key Features of iMpact TMS

System Integration

Shipment Creation

Multi-Modal Rating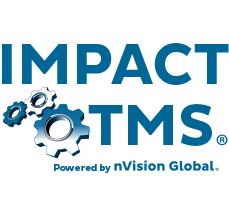 Shipment Visibility
Spot Quotes
Benefits
Our cloud-based TMS solution enables you to manage your entire supply chain, from pickup to delivery, while including your internal logistics departments, transportation providers, suppliers, distribution centers and vendors in the process.
iMpact TMS is the answer to customers who are seeking a closed loop, automated logistics solution. nVision Global's TMS application provides customers with control and visibility to their shipments, anywhere in the world and all modes of transport, beginning with order planning and tendering to invoice freight audit and claim filings of the very same shipment.
Customers gain complete visibility to:
Global Shipping Rates (including multi-modal transportation)
Negotiated Rates vs Spot Quotes
Shipment Activities Across the globe
Approval Activities