Gain Control of Your Order & Shipment Management with nVision Global's Cloud-Based IMPACT TMS
Impact TMS provides the visibility and management of your global shipments from creation through delivery.   You can now integrate all of the features you demand in a TMS solution with nVision Global's other technologies such as Freight Audit and Payment, Freight Claims and Business Analytics.
We are one of the few providers in the world that can offer these solutions in a single package and still offer a configurable TMS solution that meets your exact needs and specifications.
Inbound & Outbound Transportation Order Management

Purchase Order/Bill of Lading Integration

eBidding & Auction

Least Cost Rating and Shipment Execution

Least Cost & Service Routing

Auto Rating & Routing & Tendering

Tendering & Integrated Transportation Provider Communication

Configurable Routing Guide Capabilities
Multi Modal Rating (Mode / Cargo Type / Service Type / Service Level)

Configurable Approval Levels (Expedited Freight Approval Module)

Bill of Lading Generation, Commercial Invoice, Label Printing

US Customs Documentation Integration

Vendor Compliance Module (Chargeback)

Auto or Manual Shipment Tender

Real-Time Shipment Visibility
Global Track & Trace Integrations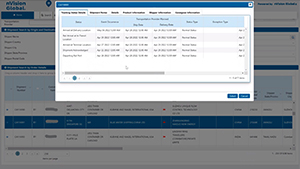 Clear view of all shipment information in one place