iMpact TMS is Your Key to
Supply Chain Success
A Cutting Edge TMS Solution that Automates Order Management,
Rating, Spot Quotes & Visibility
iMpact TMS is a revolutionary new application that allows you to plan shipments, rate those shipments across all modes, consolidate shipments, choose the optimal transportation provider, tender the shipment, gain visibility to each shipment action and ultimately perform an audit on the invoice to ensure proper payments are issued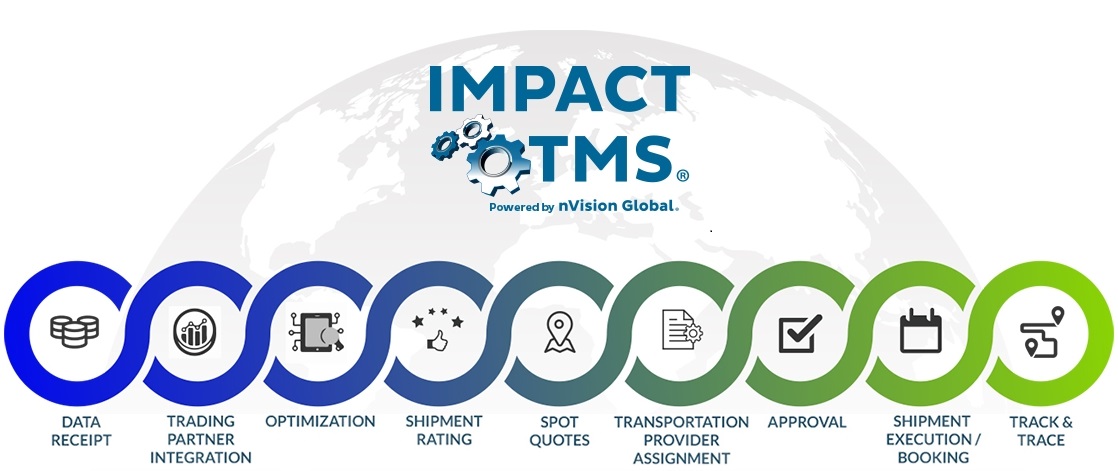 Business Benefit
Our cloud-based TMS solution enables you to manage your entire supply chain, from pickup to delivery, while including your internal logistics departments, transportation providers, suppliers, distribution
centers and vendors in the process.
iMpact TMS is the answer to customers who are seeking a closed loop, automated logistics solution. nVision Global's TMS application provides customers with control and visibility to their shipments, anywhere in
the world and all modes of transport, beginning with order planning and tendering to invoice freight audit and claim filings of the very same shipment.
Enabling meaningful planning and execution of your supply chain shipments, while delivering cost centric benefits to your business
Let's connect to build a
Long Term Business Relationship

+1 770-474-4122
© Copyright     |   All Rights Reserved  by nVision Global